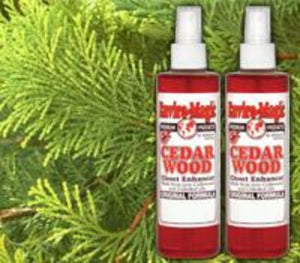 Cedar Oil Closet Enhancer
Made from PURE Cedarwood and Cedar-leaf Oils Designed and formulated
for everyday living... and tested against all levels of consumer acceptance
as to smell and aroma.

Our set of 2 x 8 OZ Bottles with 16 FULL Ounces offers the best quality and price on Amazon.ca!
The final formulation of the Cedar Oil Enhancer was the result of a six-month test with a series of closed rooms resulting in the stronger, (almost overwhelming for some), Cedar aroma being toned down while retaining the original strength of the formula.
GREAT FOR PET BEDS! This final formulation contains pure Virginian, as well as Texicana Cedarwood and Cedar Leaf Oils.... with our purity pledge to you. Just a few sprays throughout your closets and aside form enhancing the natural wood smell; as a bonus, Cedar Oil is a natural bug repellant, so those Creepy Crawly things will hit the road. Available in twin packs of (2) 8 oz. bottles, as well as economy 1-Gallon bottles.
As stated, Cedar Oil naturally enriches and enhances natural Cedar wood as well as many other woods. AND, in addition, its natural aroma discourage moths from nesting and devouring your fine wools and other fabrics; along with repelling spiders, ants and other insects.
For insects, simply spray it around windows, doorways, baseboards, etc. Use it to renew and revitalize tired Cedar Wood Closets and drawers, Cedar Wood hanging strips, hangars or balls... simply spray it on your closet walls or even on cotton balls that are then placed in clothing drawers or storage bags.
Banish moths, spiders, ants and other creepy crawly things from your home with just a few sprays of this natural Oil. Perfect for pet beds too. Use it to renew and revitalize anything made of cedar.
Prevent Moths from nesting and devouring your fine wools
Renew and revitalize Tired Cedar or ANY Wood Closets
Made from PURE Cedarwood and Cedarleaf Oils
Repels spiders, ants and other insects, Ideal For Pet Beds
Prevent Moths from nesting and devouring your fine wools
Renew and revitalize Tired Cedar or ANY Wood Closets

2 x 8 OZ Bottles for 16 FULL OZ. of Cedar Oil
Made from PURE Cedarwood and Cedar leaf Oils Repels spiders, ants and other insects,
Ideal For Pet Beds
Set of 2 x 8 Oz bottles #11001
             

~ $59.99 w FREE Shipping