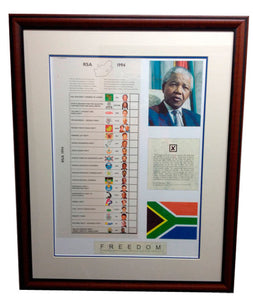 EXCLUSIVE!
Nelson Mandela Framed Original Election Ballot
Own An Authentic Piece of 20th Century History! The historic South African election of 1994 saw an end to violence as the country welcomed Nelson Mandela and his party into power along with a well earned freedom and the beginning of a transformation that is still in progress today. This one of a kind, unique South African Election Ballot secures and preserves for all time, a momentous piece of South African history that is surely destined to become a treasured family heirloom of a historic turning point in South Africa.

It features an official government-issued voting Ballot with 8 Digit registration number and a coloured "IEC" watermark appearing throughout the Ballot's background; a complete facial listing of candidates, their parties and an added white Inkatha Freedom Party sticker that makes up the last candidate box on the Ballot. This official election Ballot has been fixed on a specially prepared mounting sheet highlighting a picture of Nelson Mandela, a representation proudly displaying the new South African Flag and a note specifying the authenticity of the attached Ballot.
And finally, personal thoughts and observations in Nelson Mandela's own words of how he felt on that outstanding day as his party celebrated an overwhelming victory for democracy and justice.
Framed under a Flag colour matched mat and overlay with selected complementary rich native wood frame representative of crafted African natural woods.
Measures 21 x 26″.
Framed Nelson Mandela Ballot + Tribute: WAS $950. Reduced = $499.00
Only a select few of these were custom framed to include the original Ballot!
NOW ~ LAST TWO !