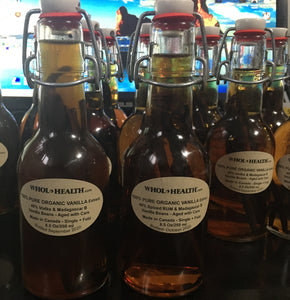 100% PURE Organic Vanilla Extract
Aged with care for a minimum of 6 ~ 12+ months

Our Madagascar B beans are traditionally cured to develop the full, complex Vanilla flavour consisting of over 200 organic compounds while the "OTHER", and lessor artificial vanilla (vanillin) available in the marketplace, simply cannot properly replicate the complexity of natural vanilla. This entire process forms the first part of our process and takes anywhere from 6 to 9 months after pollination where the farmers in the SAVA region of Madagascar have turned vanilla processing and curing into an art. This region remains the industry quality benchmark for producing vanilla plan folia with high vanillin content.

Madagascar Vanilla Beans have come to be known as the highest quality beans in the world and have an incredible flavour profile. The scent consists of a heavenly buttery aroma with a rich, black or dark brown color and a very oily outside surface. The interior of the bean is where the magic happens and consists of millions of black, tiny vanilla seeds that are waiting to burst out with flavour. These high grade Vanilla beans are ~ 5 - 6 inches in length and handpicked to ensure the highest quality.

There are so many recipes that can be created with vanilla beans! Desserts such as vanilla sauces, ice cream, puddings or custards, crème brûlée or vanilla croissants, cupcakes, or cookies can be created with these magical beans. Or how about unique drinks and/or your morning coffee.
Our beans are triple inspected. First, by the farmers who have generations of experience. The second during sorting and storage. Then finally before packing your shipment where we check the smell, quality, and appearance.
Our Vanilla Beans have been sorted and processed then combined with either pure Vodka or Spiced Rum then finally aged a minimum of 6 full months (current stock has been aged for over 12 months) or more allowing the deep, full flavour of the Vanillin to be slowly teased out of each bean. The result is a taste-bud tempting, rich extract bursting with Vanilla flavour to enhance most any drink or cooking effort.
These aged with care, PURE Organic Vanilla extracts come in attractive, 8.5 oz. Swing-Top Bottles, each sealed with a silicone and ceramic stopper. For both added value and flavour, we have included the actual single-fold, B Vanilla Beans used in each bottle of Extract. So, the longer that you allow the extract to cure, the stronger and more flavourful the extract will become.

SPECIAL ORDER ~ITEM ~ Del X area
#WV021 ~ Pure Vodka REAL Vanilla Extract ~ $  99.00
#WR021 ~ Spiced Rum REAL Vanilla Extract ~ $109.00
Store the infusing Extract out of direct sunlight and give it a shake once per week.
Want to know the best part of all? You can continuously add more alcohol to refresh the remaining extract as you use it. This is truly the gift that keeps on giving!